Going along with my anti-clutter lifestyle (ha ha), I feel that refrigerator doors could use a makeover! What? No pictures of my babies, no reminders, invitations, no pics of my kid's art?? Well, not exactly. I have no problem with those things, just don't junk it up so that they fall on the floor every time I need to open the fridge. [Magnets shown above]

Let's organize our refrigerator clutter and make it a little more pleasing to the eye. No need to remove all signs of human life from a home, but let's make it have a cohesive look. Let's make it look like we intentionally put each item in that exact spot. Let's make it pretty!

How precious are these mini magnetic frames from CB2? At only $1.95 each , these would be just perfect to capture those family memories!

Have a stainless steel fridge that will not accept magnets? How about these adhesive magnet strips from fridgedoor.com ?

Or these from CB2: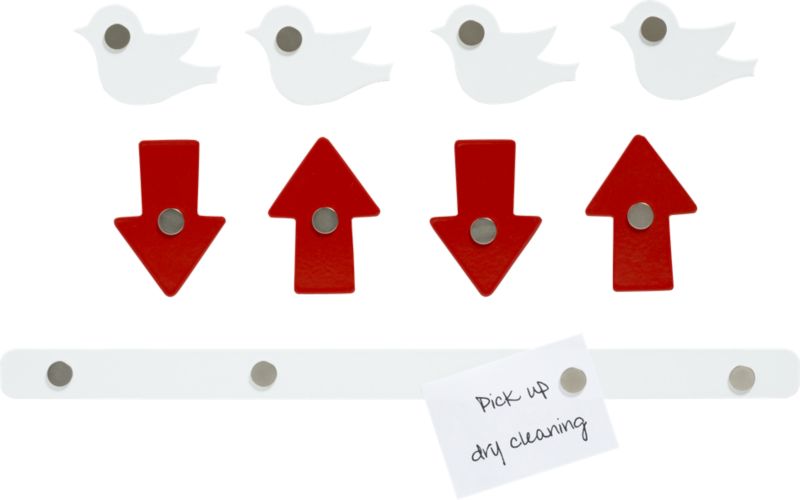 To keep your message system handy, check out this Mesh MagNet Organizer from Organized A to Z.com!


These bamboo file boxes from solutions.com hold up to 15 pounds! Stick in a few folders and you have instant organization with a contemporary flair for all of those papers, coupons, recipes, and menus!


And if you just can't stand the thought of organized fridge doors, how about some beautiful magnets to give your clutter that cohesive look? :) I have fallen in love with these handmade marble magnets from seller thePurplePear found on etsy.com! Check out some of her work.



Clutter on your fridge is clutter in your life, so take a step back and see what you think. Whatever you decide, just make it pretty!